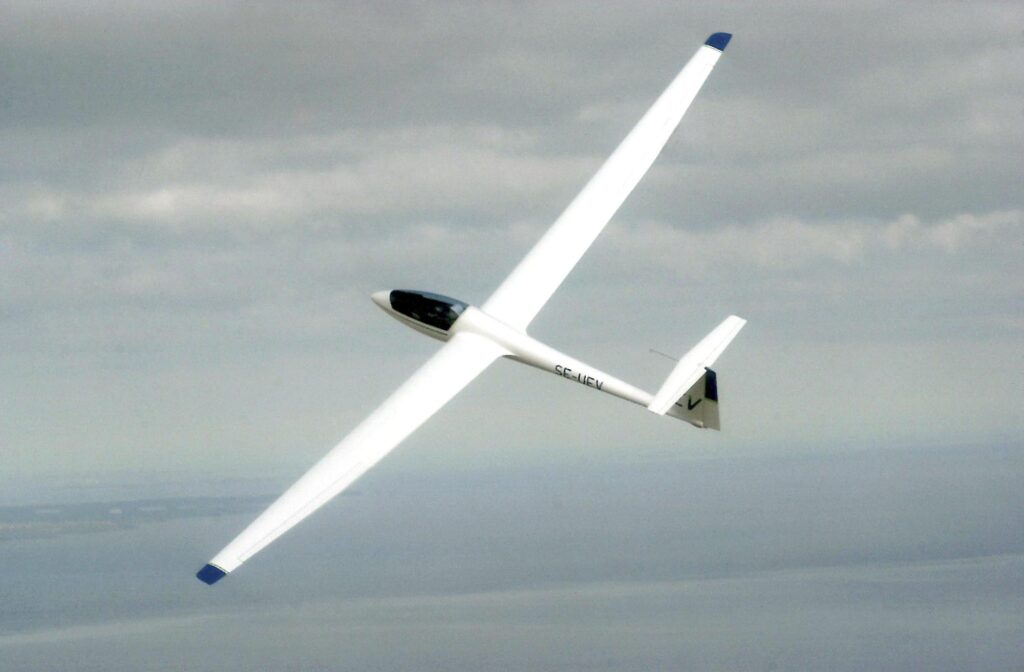 SE-UEV – LS4
SE-UEV är ett av klubbens två ensitsiga segelflygplan. LS4:an, som är den första ensitsiga segelflygplanet klubbens elever får flyga, är ett tävlingsflygplan som numera tillhör klubbklassen. LS-4 är utrustad med infällbart landningsställ.
Läs gärna bokningsanvisningar här.
Är du intresserad av att flyga in dig? Hör av dig till pyls.flygservice@telia.com
Teknisk data från tillverkarens flyghandbok + manual+ internet
(observera att gällande data är de som står i flygplanspärmen!)
Rolladen-Schneider
Typbeteckning
LS4a
Tävlingsklass
Klubbklass (Tävlingsindex 106)
Antal tillverkade
837
Besättning
1
Längd
6,79 m
Höjd
1,32 m (LS4-a)
Cockpit, bredd
0,64 m
Cockpit, höjd
0,83 m
Spännvidd
15 m
Vingyta
10,53 m²
Sidoförhållande
21,4
Vingens profilform
FX 79-162 / FX 79-133
Tomvikt/Tillsatsvikt
ca. 259 kg (LS4)Pilot utan vatten minst 70 kg- max. 102 kg (LS 4-a)
Vatten barlast
164 kg (LS4-a)
Maximal flygvikt

525 kg (LS4-a)
Vingbelastning
ca.32 – 50 kg/m² (LS4-a)
Maximal fart/Minsta fart
280 km/h 68 km/h
Max. Manöverfart
190 km/h
Min. sjunkhastighet
ca. 0,61 m/s vid 80 km/h
utan barlast
Bästa glidtal
ca. 40.5 vid 100 km/h
utan barlast
Rolladen Schneider LS 4
Konstruktör: Wolf Lemke
Rolladen-Schneider LS4 är en Club-Standard Class ensitsig glider, tillverkad i Egelsbach i tyskland hos Rolladen-Schneider Flugzeugbau GmbH mellan 1980 och 2003.
Antal tillverkade exemplar LS4; LS4a och LS4b: sammanlagt 1048 styck
Comment:
The LS4, successor to the LS1 in the Standard Class, made its first flight in 1980. It is the third most produced non-military glider (after the Grunau Baby and the Blaník basic trainers).

The LS4 won the first two places in the Standard Class at the 1981 World Championships in Paderborn, West Germany, and the first six places (and twenty-one out of the first twenty-five) at the 1983 Worlds in Hobbs, New Mexico. It is still a favourite in handicapped competitions and as a club and recreational aircraft.
This type consolidated Rolladen-Schneider's reputation for well rounded sailplanes that are both easy to fly and top performers. It is docile enough for beginners and its performance is only slightly below the latest standard class sailplanes. Given the continued interest in the type, the LS4 may be put back in production by the Slovenian manufacturer AMS-Flight.
Design
The design of the LS4 was influenced mainly by the experience Rolladen-Schneider had gained with the LS2 and LS3 flapped gliders. Wolf Lemke returned to a double-tapered wing planform, features a new airfoil (Wortmann mod.) ,giving it a larger area comparatively to the LS1 and LS2, and enlarged all control surfaces: the ailerons were elongated and brought further inboard and the tailplane span was increased.
The fuselage and vertical stabilizer were taken from the LS3 moulds. Other notable features of the design were the retractable landing gear, the centre of gravity tow release that retracts with landing gear, the heel-operated wheel brakes, the upper wing surface double segment Schempp- Hirth type air brakes and the water ballast system with internal bags. The improved LS-4a has an increased gross weight and ballast capacity and strengthened landing gear.
The structure is entirely glass reinforced plastic mostly with synthetic foam cores. The exterior coating, as with most composite gliders, is gelcoat, which protects the load bearing composite from humidity and UV-radiation, and is thick enough to allow wing profiling, which is done by hand during the finishing stages of manufacturing to achieve the smoothness required for extensive laminar flow.
The LS4-a featured larger water ballast bags allowing for an additional 15 liters (3.95 US gallons) of water to be carried in each wing. The landing gear system is strengthened by the addition of one extra set of shock absorption bumpers in order to handle the increased gross weight with a full water ballast load. The LS4-b has a vertical height increased by 0.11 m (.38 ft) to 1.43 m (4.69 ft). The -b fuselage is 0.13 m (0.43 ft) shorter at 6.66 m (21.84 ft). The wing shells are made in carbon, control connections are automatic, the instrument panel tilts up with the canopy and it has an optional tail fin water ballast system.